Rack Cases by U Size
SKB 19 Inch Rack and Shock Rack Cases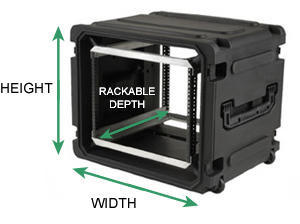 The table below lists all our SKB Rack Cases in U size order, starting with the smallest (1U).
Width - always 19 inches (483 mm)
Rackable Depth - the distance from front rail to back rail.
Height - usually measured in U Size
U or RU means Unit or Rack Unit. It describes the height of the rack case or of the piece of equipment being mounted inside. 1U is 1.75 inches or 44.45 mm high. So 2U would be 3.5 inches or 88.9 mm high and so on.
Click on the Product Code to see the full spec, images and price.
If you need advice please call us on 0117 905 5034 or email sales@casemarket.co.uk and one of our staff will be happy to help.